Here we are, the final day of the Dopey Challenge 2016!
I set my alarm a little bit earlier so that I didn't get stuck in the bag check line again. Hello 3am!
I woke up feeling pretty good. Definitely tired and a little sore but still ready to tackle 26.2 miles. Some coffee and peanut butter toast and I was out the door by 3:45. I walked to the bus pickup and was on a bus around 4. It filled up quickly and we were on our way to Epcot at 4:10!
We arrived around 4:25 and I warily approached the start area, fearing the bag check line. But they had fixed the problem. I was through the bag check line in 10min and was able to hang out with some friends before the race. Woo hoo!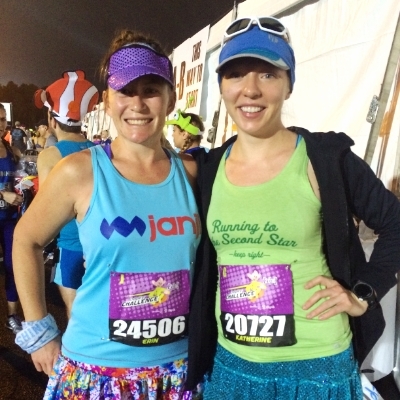 BibRave Pro love!
After hanging out for a bit, it was time to make the trek to the corrals! It always feels like such a long walk to the start. The announcers were peppy as always and this sleepy runner was finally awake and ready to run. 3….2… 1… GOOOO!!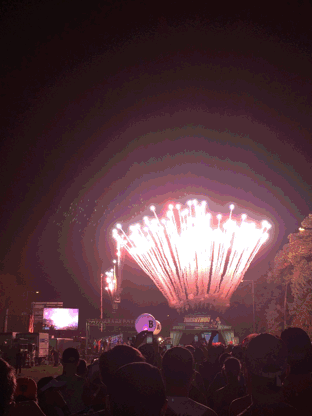 Loved that the announcers dressed as the character for that race each morning. This morning was Marching Band Mickey, the Brave Little Tailor and the Sorcer's Apprentice!
It's time to get this marathon on!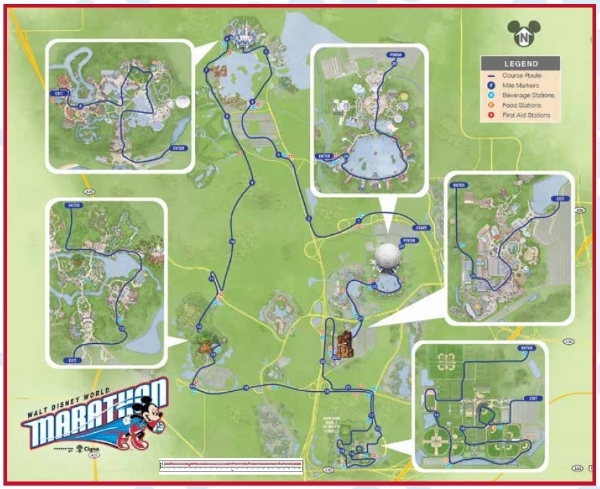 The course starts out the same as the half marathon, we run the road around Epcot before heading to the Transit and Ticket Center (TTC). It was pretty crowded and my tiredness was making me a little grumpy. I wasn't finding my happy place like the day before at the half.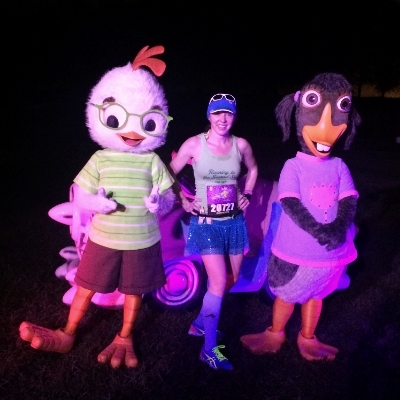 On marathon day I stop for pics that either a) have a short line or b) characters that are rare or I don't have yet. This was my first Chicken Little pic!
We ran through the TTC, then up the road, under the water bridge and past the Contemporary before getting to the Magic Kingdom!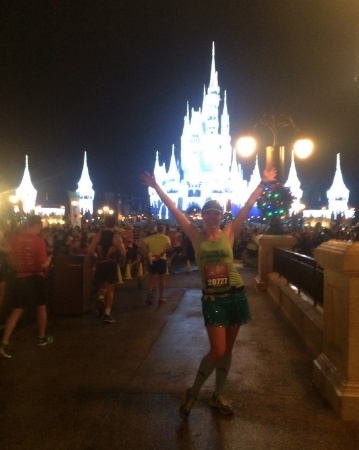 The course then changed from past years. We ran through Tomorrowland and then into Fantasyland and then we ran through New Fantasyland! There were even some fun characters out but the photographers/character attendants were running slow. This irked me and was totally a "wahhhh… " moment for me.
Picture 1 with Ariel – the line was moving slow because 1) the photographer was moving really slow and 2) the managers decided to stop the character attendant to describe proper line control. Come one guys!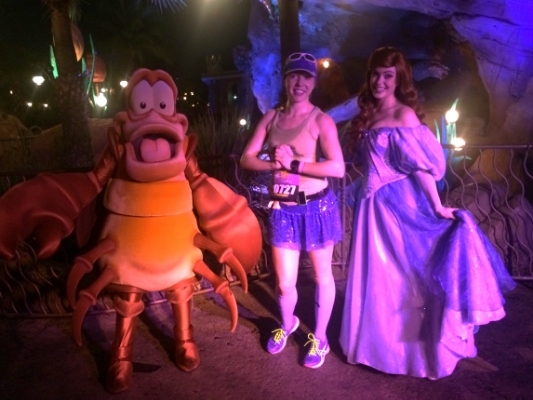 Picture 2 – By the time I got there the managers had gotten there too. I was the next person in line and then they stopped the character attendant to talk to her. Literally trying to hand her my phone and she doesn't take it because the managers are talking to her. Completely stopping the process. Screw it! I'll take a selfie and keep this race moving.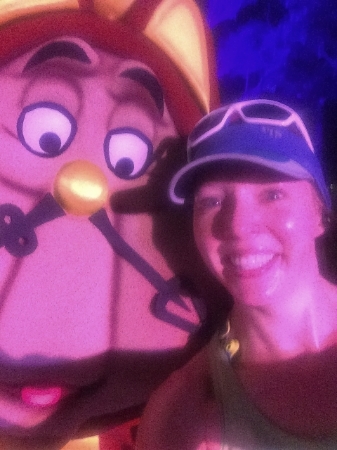 Back to the race. We ran through the castle and turned right into Liberty Square and then into Fronteirland. We did a loop up to Big Thunder Mountain and then past Splash Mountain and out of the park. We were then confronted with a dragon!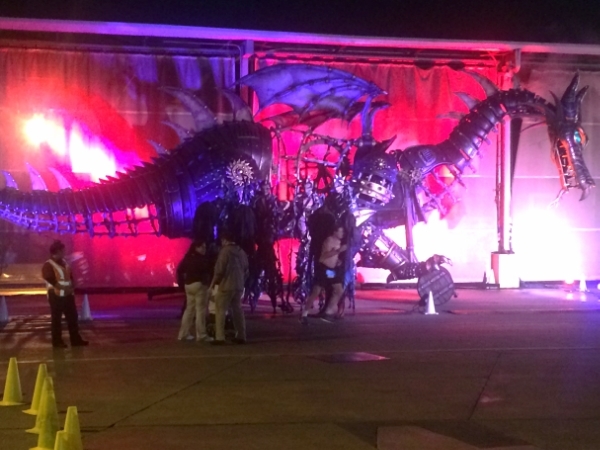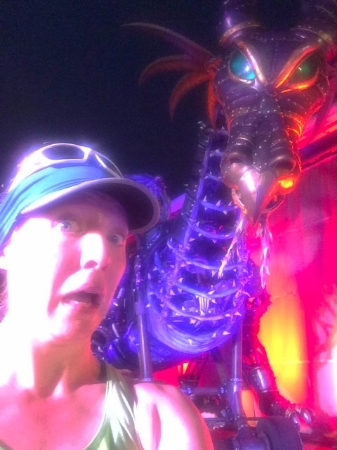 We were now out of MK and on our way to Animal Kingdom. It was also at this point that the heat, humidity, crowded course, and annoyance with character photos was really bringing down my race. I was in grumpy, "wah.." mode and well I needed to change that. I still had 20 miles ahead and this 'tude wasn't going to fly. Pep talk time…
"Katherine you are running at the most magical place on earth. You just got your picture with the castle, with Ariel and Sebastian, and Cogsworth, how cool was that? So what the photos took an extra minute, is that really going to affect your race? No, no it's not. You are so lucky to be running so get your head in the game and stop pouting. You're at freakin' Disney World!!!"
Okay that pep talk did the trick and I was back in the game. Let's go! There were lots of characters out, but most I had seen before so I kept going. It was still really hot, muggy and foggy so I was trying to out run the sun, any minute it would burn off the cloud/fog cover.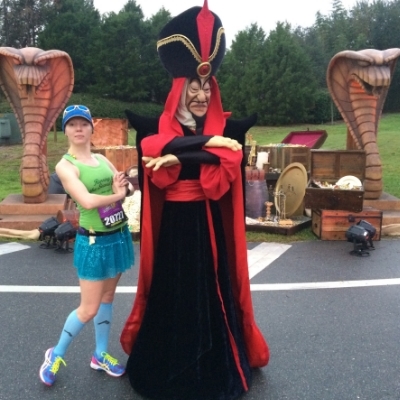 We ran the little out and back section to make up for taking out the race track and then into Animal Kingdom. This part is awesome. The park is awesome and once you exit there are so many people out cheering in front of the park. It's amazing.
Once through Animal Kingdom, it's out on the road to Wide World of Sports (WWoS). This part is pretty boring but there were people out cheering and some characters. And then we enter WWoS. Hold your horses, here we go for 3 miles of twists and turns in WWoS.
Usually this part doesn't bug me, but this time, it did. I do like getting to run on the track because it feels nice on the legs, but it felt like forever until we got to the baseball stadium. So when you start getting nutty during a Disney run you stop for characters!
We exited WWoS and at this point you hit mile 20 and you know you are in the home stretch! I was feeling good, the sun was just starting to come out so it was time to pick up the pace and finish this race. On to the roads, up the ramp and then into Disney Hollywood Studios. Grabbed a chocolate and actually was able to get it down (score!) and feeling good. I was getting my run dancing on and enjoying these final miles.
Running through the Beach Club/Boardwalk area is the best because there are so many people cheering and then running through Epcot is just so fun. I had to stop for a pic with the Fairy Godmother again but it turned out all blurry :
Through Epcot, pass the Gospel Choir and into the finisher chute. I LOVE running at Walt Disney World and the Walt Disney World Marathon!
I got to pick out my 3 medals and grabbed my 4th and final snack box and basked in the glow of yet another Dopey Challenge completed!
This was a great race, not my fastest but I felt great and just happy to be healthy enough to be completing my 3rd Dopey Challenge. The Walt Disney World Marathon is like no other and keeps you entertained at every step of the way. If you give into the fun and magic you can have a great time and truly find you happy running place.
Until next year WDW Marathon Weekend
Cheers!