Hello all!
So since I'm in taper, my mind has wandered to more leisurely endeavours and when I have some extra time I like to think Disney (who would've thought?!). Reading articles about the history and development of the parks are some of my favorites! Since I'm getting pretty amped for the new movie being released, Tomorrowland, my research has been taking me to the 1964 World's Fair.
This new movie relies heavily on the 1964 New York World's Fair and there has been a lot of attention in the past year paid to this moment in history for the Walt Disney Company. This was a time when Imagineering (then known as WED Enterprises) made huge advances in attraction and audio-animatronics technology and this was the first time they got to see how an East coast audience responded to Disney theme park entertainment. The success only fueled the fire to build Walt Disney World and paved the way for audio-animatronic heavy attractions like Pirates of the Carribean to become a reality.
This was an amazing moment for American technology and entertainment!
I've especially enjoyed watching videos and find photos and art from the time and so I thought I'd share some of my favorites here. The public was fascinated by the fair and for good reason. It showed off the technology of the not so distant future and the public was immensely hopeful for what technology would allow us to do in the future! People were hopeful for where our world was heading and the fair motto "Peace Through Understanding" still echos today as we strive for a more peaceful and understanding world.
So with that let me share with you some of my favorite pieces of art and video that I've come across that really paint a picture of what the fair was like.
Concept art for "it's a small world" hosted by Pepsi-Cola. The tower of the 4 winds in front of the pavillion was designed by Rolly Crump as a kinetic "weenie" to draw guests to the pavillion! The combination of technology and artistry is one of the reasons this attraction still resonates today! So beautiful!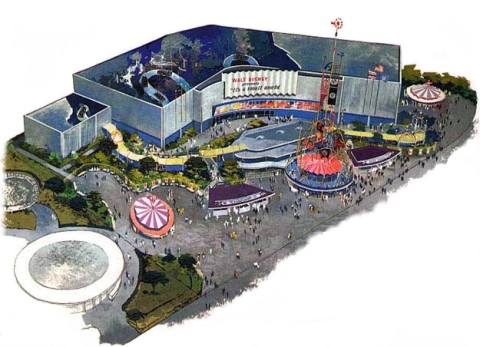 Source:
The other Disney we think of today when we think of the '64 World's Fair is Walt Disney's Carousel of Progress. It advertised that "238 guests admitted each 4 min over 40,000 daily to our 45 min show", that an impressive throughput! I'm sure everyone wanted to know what was inside this beautiful pavilion.
Source:
An amazing video of clips of the different areas at the '64 World's Fair, it really paints a picture of everything that was going on at the fair!
Source: MyFootage.com on YouTube
1964-65 NEW YORK WORLD'S FAIR – Ford Magic Skyway
Another WED attraction at the fair!
Source: MUSICOM PRODUCTION via YouTube
'64-65 NY World's Fair FUTURAMA Ride Video
General Motors pavilion attraction.
Source: captainlarrydart via YouTube
New York World's Fair: "Sinclair at the World's Fair" 1965 Sinclair Refining Company
Source: Jeff Quitney via YouTube
Disneyland Goes to the World's Fair (1964)
Source: cjs13172 via YouTube
(1/6) RARE 1964 NBC COLOR TV SPECIAL – "A World's Fair Diary" with Edwin Newman
Source: MUSICOM PRODUCTIONS via YouTube
A video of the fairgrounds today (video published 10/2013) created by
Hope you enjoyed this journey with me. See you at the movies!